En Español

*Disclaimer: This page is updated every weekday at 6pm*

Vaccine Interest Form

To receive notification about the availability of the COVID-19 vaccine when it is made available to the certain phases and tiers, please click on the button below to fill out the vaccine interest form.




Solano County Status of COVID-19 Vaccine Distribution

The state distributes COVID-19 vaccine to three groups of entities: CVS and Walgreens pharmacies, which are on contract with the State to vaccinate at long-term care facilities; Multi-county Entities (MCEs), which are hospital systems operating in more than one county (Kaiser and Sutter in Solano County); and, directly to counties to distribute to healthcare providers that are not MCEs (in Solano: Northbay Hospital, the community clinic systems and Touro clinic, among others) and to use to County-run clinics. Travis AFB and the State prisons in Vacaville are vaccinating their populations independently of these three groups of entities.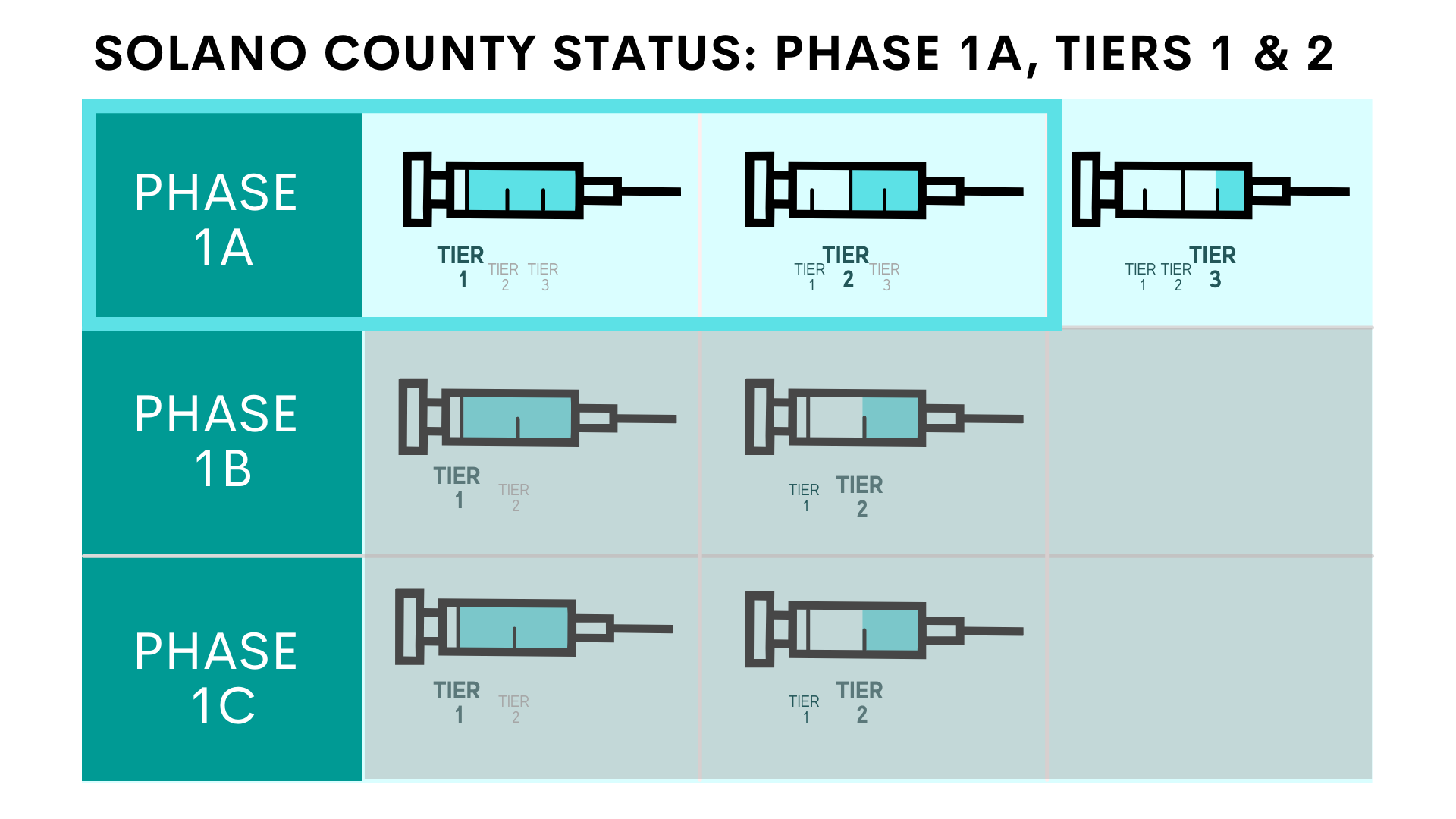 Vaccine Rollout by Phase and Tier
Click here to the view by PDF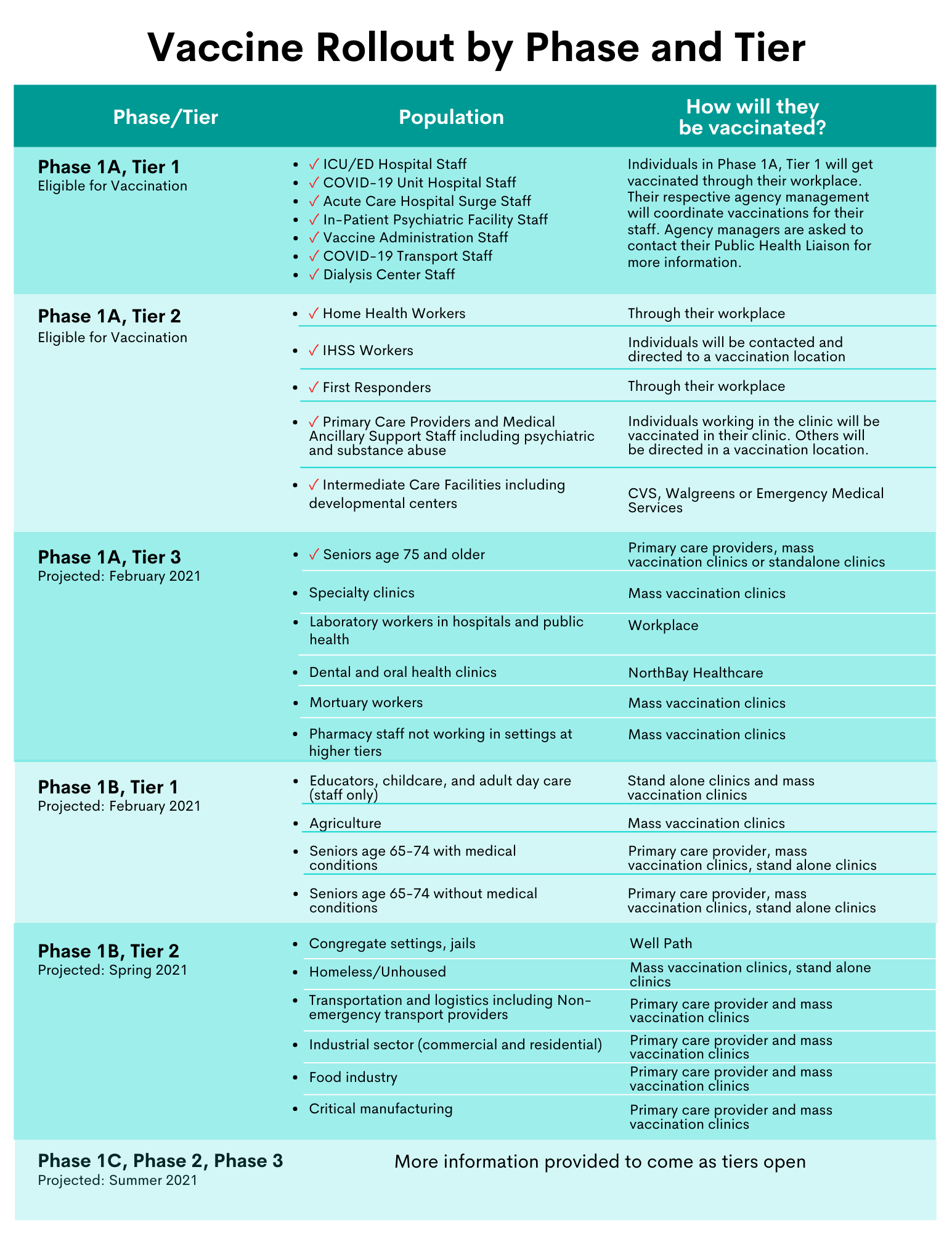 Where Eligible Individuals can Get Vaccinated
People who are eligible to be vaccinated should contact their healthcare provider to make an appointment. 
Click here to learn how to schedule an appointment by healthcare system.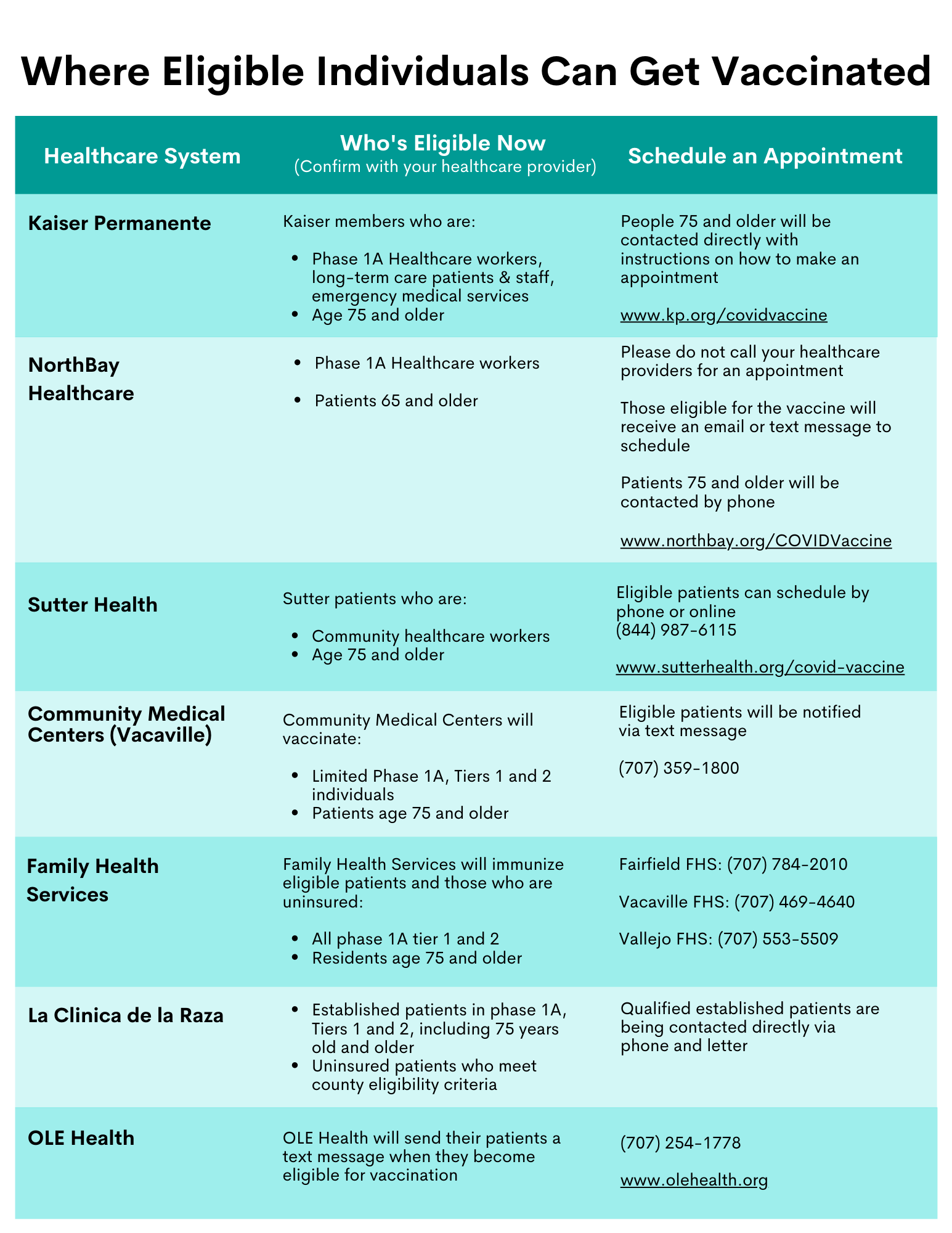 Vaccine Distribution Meter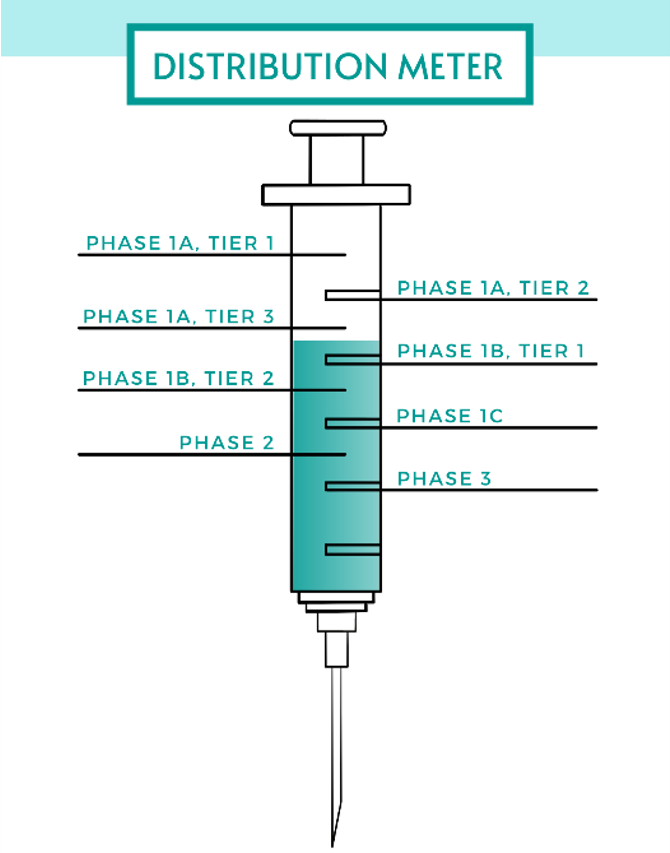 Vaccine Distribution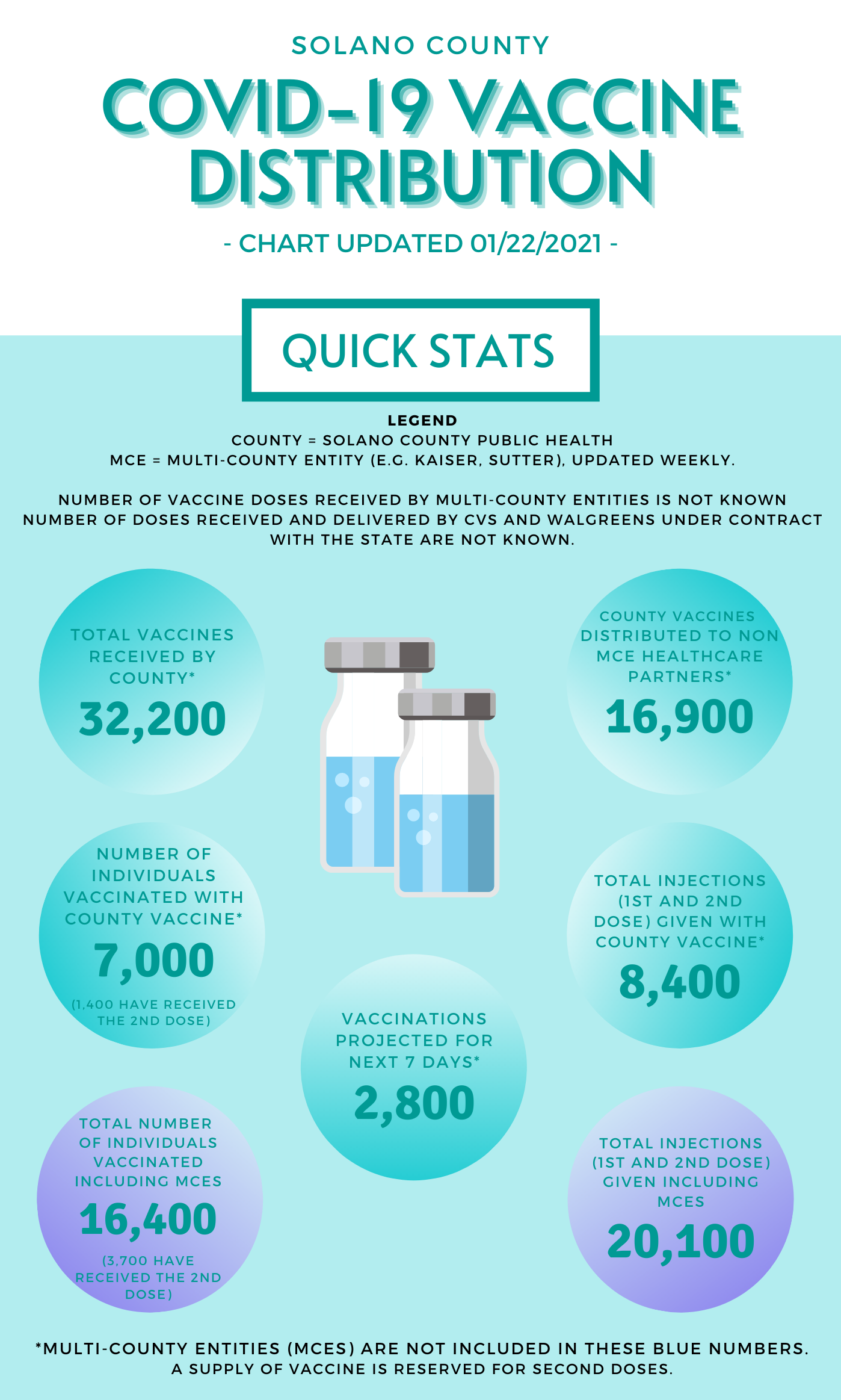 Phase 1A - Distribution is Underway

During the initial phase of the COVID-19 Vaccination Program, initial doses of vaccine will be distributed in a limited manner. COVID-19 vaccine administration efforts must concentrate on the initial populations of focus to achieve vaccination coverage in those groups. Inventory, distribution, and any repositioning of vaccine will be closely monitored through reporting. The goal is to maximize vaccine acceptance and public health protection while minimizing vaccine waste. It is anticipated that additional supplies of both Pfizer and Moderna COVID-19 vaccine will be received in the coming days, allowing progress to be made toward vaccinating all individuals in the current phase and tier.
Tier 1 - Distribution is underway
Tier 2 - Distribution is underway
Tier 3 - Distribution will begin soon
Phase 1B - Projected start date of February 2021
Tier 1 - Not yet started
Tier 2 - Not yet started  
Phase 1C - Projected start date of Spring 2021
Individuals 50-64 years of age
People 16-49 years of age and have an underlying health condition or disability which increases their risk of severe COVID-19
Phase 2 - Projected start date of Spring 2021
During this phase, there should be larger number of doses available. As the supply of available vaccine increases, distribution will expand, increasing access to vaccination services for a larger population. The goals will be to provide equitable access to COVID-19 vaccination for all critical populations to achieve high COVID-19 vaccination coverage in these populations in the jurisdiction and ensure high uptake in specific populations, particularly in groups that are higher risk of becoming severely ill.
Phase 3 - Projected start date of Summer 2021
During this phase, COVID-19 vaccine will be widely available and integrated into routine vaccination programs. The goal is to achieve a broad vaccine administration network for increased and equitable access.

If you have other questions, please call the COVID-19 warmline at 707-784-8988.

Vaccine Prioritization, Safety and Ethics

See this link for more information about vaccine prioritization, safety and ethics.

Fact Sheets

Moderna COVID-19 Vaccine Fact Sheet
Pfizer-BioNTech COVID-19 Vaccine Fact Sheet

FAQs and Resources

For frequently asked questions, visit Solano County COVID-19 Vaccine FAQs
For frequently asked questions, visit CDPH's COVID-19 Vaccine Planning FAQs
To learn more about how vaccine safety is verified, visit CDC's Ensuring the Safety of COVID-19 Vaccines
To learn more about how a vaccine is developed, approved and manufactured, visit the CDC's Vaccine Testing and Approval Process