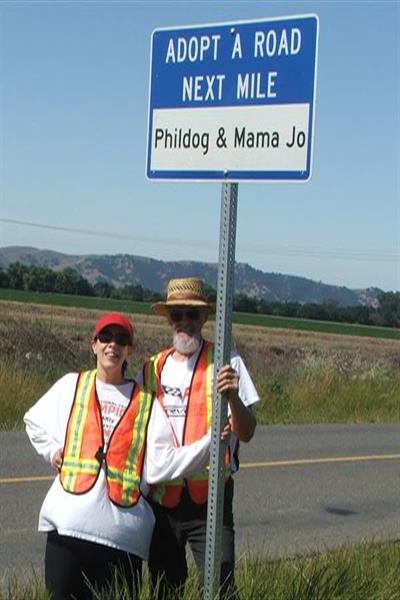 The Solano County Adopt-A-Road Program helps maintain and beautify the unincorporated public ways and helps keep waterways clean. Participation is voluntary but encouraged for parties interested in removing litter along County roads.
Adopt-A-Road 
Encroachment Permits
are issued for two-year periods and have no application fees. The applicant is required to hold the County harmless as one of the permit conditions, but no liability insurance is required.
In addition, the applicant shall sign a specific
Hold Harmless Statement
. A copy of the Adopt-A-Road 
Special Conditions
shall be attached to each permit and made a part of the permit.  Each permittee shall be furnished with a copy of the Adopt-A-Road 
Safety Requirements
for Participants. Additional copies will be furnished upon request for distribution to group participants.
Once issued, Public Works Operations will install two Adopt-A-Road signs with the name of the volunteer group within the designated litter pick up area.
The permittee is required to remove litter at least once every three months, except that this condition shall not apply during periods of rain or when the area adjacent to a road is wet or muddy. Weeding is not part of the Program. Solano County Public Works Operations will supply trash bags, disposable cotton gloves, safety vests, and litter tongs. 
These items may be picked up at the Fairfield Corporation Yard, located at 3255 North Texas Street in Fairfield. Only the safety vests and litter tongs need be returned to the Yard. The permittee is required to call a Solano County representative at the designated number (listed on permit) to report when they have picked up litter, which shall be noted in the permit file.
Public Works Operations will then pick-up the bagged litter and haul it to a landfill.
Litter removal shall only be performed during daylight hours when visibility is at least one-half-mile. Permits shall only be issued for roads where litter can be picked up and removed safely. Public Works Engineering may place additional conditions on the permittee to ensure the safe and satisfactory completion of the work. Public Works Engineering may also decline to issue permits at its discretion.
We thank you for this valuable effort towards keeping our roads and waterways clean.