Get e-mail updates when this information changes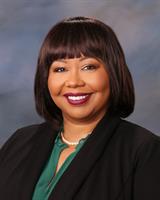 Supervisor Wanda Williams was elected to the Solano County Board of Supervisors (BOS) in November 2022.  She is the first African American Woman to be elected to the Solano County Board.  Supervisor Williams currently serves as Chair Pro Tem of the Board and represents the BOS on 22 boards and committees.  Prior to being elected to the BOS, she was elected to the Suisun City Council in 2018.  During her time on the Suisun City Council, she was appointed to the office of Vice Mayor for a term of 1.5 years.
Supervisor Williams graduated from the University of California, Davis in 2021 with a Bachelors Degree in Political Science with an emphasis in Public Service, and a minor in African American Studies.  Prior to attending UC Davis, Supervisor Williams graduated from Solano Community College in 2017 having earned three Associate Degrees (Business Administration, Secondary Education and Sociology) and served on the official government of the student body (the Associated Students of Solano College ) as the Senator of Humanities.  
 
Supervisor Williams is the founder of the Suisun City Children's Art Fair, Suisun City Veterans Day Celebration, first Black History Month Celebration and Suisun City Adopt-A-Neighborhood.  She volunteers her time and expertise as a Board Member of the Solano Community College Educational Foundation and the Black Elected Officials of the East Bay.  Supervisor Williams is a proud member of the Fairfield-Suisun Rotary, Board Member of Fil-AM Chamber of Commerce, National Council of Negro Women (Solano Chapter) and the Solano-Napa Chapter of Black Women Organized for Political Action (BWOPA).
***Contact the Supervisor and her staff***

Supervisor Wanda Williams
Phone: 707-784-6136 
[email protected]  
675 Texas St. Suite 6500, Fairfield, CA 94533

District Representative Latressa Alford Wilson, JD
Phone: 707-784-6418 
[email protected]

District Representative Kathy Lawton-Caesar
Phone: 707-784-3006 
[email protected]
Check out my District 3 e-Newsletter:
Issue 1, June 9, 2023, click
HERE

Issue 2, August 29, 2023, click
HERE
Issue 3 (Special Edition), September 15, 2023, click
HERE
Issue 4, November 17, 2023, click
HERE