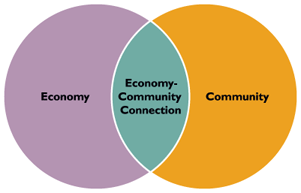 THE CONNECTION BETWEEN OUR ECONOMY AND COMMUNITY
Our Community is Growing Value in our Economy

Fuel efficiency is improving. Our residents are driving less, conserving fuel more and choosing other means for getting to work than driving alone.
Our workforce is becoming more qualified. From 2005 to 2008, the number of residential and commuter employees with a Bachelor's Degree or higher increased by 25 percent. More recently, there was a 13 percent increase from 2007 to 2008.
Environmental gains are underway. Clean energy generation capacity is growing in the region, and land conversions from agriculture to urban are slowing.
Value is growing. Solano County benefits from its proximity to U.C. Davis as high-value business and research activities spread beyond the campus into the broader region.