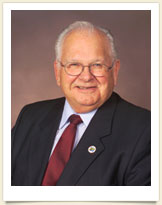 "Make County Government Work For You"
County Supervisor John F. Silva is an elected official to the Solano County Board of Supervisors and is the Representative for District 2, which includes Benicia, half of Vallejo (including the unincorporated areas) as well as areas of Green Valley and Cordelia.
During the last 11 years as an elected member of the Board of Supervisors, Supervisor Silva has worked hard with his colleagues to bring balance, fairness and harmony to the Board and he is eager to continue working hard to ensure Solano County remains financially stable and one of the best Counties in the State to live in.
Supervisor Silva is driven by a passion for Public Service and making county government work for the people. He has a sincere desire to address the county's most pressing problems such as traffic congestion, challenging health care issues, domestic violence, gang violence, programs dealing with criminal justice, responsible and sustainable land use and sound investment in public infrastructure projects. As an elected official he has dedicated over 19 years of Public service to these vital concerns.
Supervisor Silva believes that his public service career and experience, which spans 22 years with the Benicia Police Department as a Patrolman, Sergeant, Lieutenant, Captain and Deputy Chief, City of Benicia Finance Director/ City Manager for 9 years, 8 years as a City of Benicia City Councilman (including Vice Mayor) and 11 years as your District 2 elected representative to the Solano County Board of Supervisors will enable him to continue to provide the leadership that is vital to maintaining a healthy and progressive County.
Supervisor Silva has or is serving on Boards and Committees that have enriched his knowledge of local and state issues and include; the California State Association of Counties Administration of Justice Policy Committee. National Association of Counties Justice and Public safety Steering Committee, Benicia Housing Authority, Solano County Fair Board Sutter Solano Medical Foundation, Native Sons of the Golden West Parlor # 89, Solano County Health Care Partnership and the Bay Area Air Quality Management District and the Solano Transportation Authority. He is also a graduate of the FBI Academy at Quantico, Virginia.
Supervisor Silva is currently serving his third term as the Chairperson of the Board of Supervisors. His e-mail address is
[email protected]
and his office phone number is 707-784-2974.