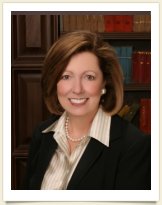 Linda Seifert represents District 2 on the Solano County Board of Supervisors.  Her district includes Benicia, Cordelia, Green Valley, the Suisun Marsh and portions of Vallejo and Fairfield.  Elected in June 2008 and 2012, she will serve through 2016.  She has served as Chair of the Board in 2012 and 2013.
Seifert's service to Green Valley and Solano County has earned support from citizens and organizations that champion open and transparent government that value community participation in the civic process.  She is an advocate for preserving the agricultural character and resources of the county and for improved recreational services through the implementation of a park district.  She values investment in education as a primary tool to building stronger communities that entice businesses to settle in Solano.  She is committed to ensuring that health and social services are available to the very young and seniors in our community. 
Her community service included terms as member and Vice President of the Solano County Library Foundation, member of the Child Haven Board of Directors, member and President of the Green Valley Landowners Association Board of Directors, and member of board of Advocates for the Arts.
She was raised in a small farming community in Minnesota and moved to California as a teenager.  She graduated from California State University in Fullerton (English 1971) and the University of the Pacific McGeorge School of Law (1984).  She was a member of the Law Review, the Moot Court Competition team, and the Traynor Honor Society.
She was the first woman partner at the firm of McNamara Law Firm in Walnut Creek (1985-1997).  She served as President of the Contra Costa County Women's Bar Association and as a member of the board of directors of the Contra Costa Bar Association. 
In 1997, she joined the staff of the California Dental Association, a large health care non-profit located in Sacramento, as General Counsel.  She advised the board on legal issues and oversaw legal matters for the organization.
When she retired in 2003, she pursued her passion for community work.  She is a compassionate public advocate who has spent the last five years after retiring from the practice of law working to improve the lives of Solano County residents.
She resides in Green Valley.
Seifert's Board assignments to boards, commissions and committees are as follows:
Association of Bay Area Governments, Executive Board (Primary)

Association of Bay Area Governments, General Assembly (Primary)

CSAC Board of Directors (Primary)

CSAC Legislative Committee

Family Justice Center Facility Committee

City County Coordinating Council

East Vallejo Fire Protection District

First 5 Solano Commission (Chair 2013; Vice Chair, 2012)

Health and Social Services and Family Justice Committee (Chair, 2010, 2012)

In-Home Supportive Services Public Authority

Juvenile Justice Coordinating Council

Law and Justice Committee

Law Library Commission

Legislative Committee (Primary)

Local Mental Health Advisory Board

Northern California Counties Tribal Matters Consortium

Senior Issues Committee (Primary)

Solano County Water Agency

Solano Land Trust Board of Directors (Vice President 2012 and 2013)

Solid Waste Independent Hearing Panel (Chair, 2009-2013)

Delta Protection Commission (Alternate)

Public Art Committee (Alternate)

Vallejo Sanitation and Flood Control District (Alternate)

Yolo-Solano Air Quality Board (Chair 2012, Vice Chair, 2011)
In addition, Seifert is a member of the following:
National Association of Counties (NACo)

California State Association of Counties (CSAC)

California Bar Association

California Women Lead

Women of NACO (President-Elect 2013)

Benicia League of Women Voters

Benicia Historical Society

Vallejo Chamber of Commerce

Sierra Club

Benicia Chamber of Commerce
Seifert and her staff, Catherine M. Ritch and Belinda Smith, are available Monday through Friday from 8:30 a.m. to 5:00 p.m.
Board of Supervisors meetings are generally held the first, second and fourth Tuesday of each month and can be viewed by webcast at www.solanocounty.com/agenda along with the agendas for the meetings. Rebroadcasts of the Board meetings are available on local cable channels.